We share our inquisitive musings.
We win awards for our customers
on-IDLE has been presented with a Standard of Excellence Award in the Non-Profit sector for The Philosophy Foundation website, conceptualised, designed and built by our fantastic team.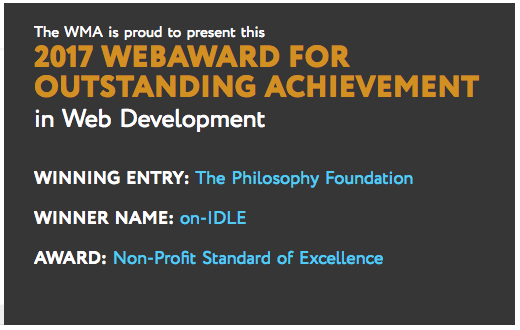 What the judges said:
Great mission, which is prominently featured (What We Do) - Rich, nested/layered content, yet well organized and easy to navigate - I like how the user can control the top rotating primary images / case studies (rather than them rotating before I'm done reading them) - I don't know if possible, but consider a future version where the events feel like you're still on the same site (currently spawning a new window introduces complexity for users / window/tab management...) - Being able to see the students express themselves (videos) is very compelling, nicely done...
You can find out all about the project here.