We share our inquisitive musings.
Benefits of a website redesign
Your organisation spent a small fortune and many hours to craft, test, launch and maintain its website - whether it is a brand portfolio or fully fledged online commerce store a few years ago. You invested in copywriting and SEO extensively.
Suddenly you are dropping in search engine rankings and your analytics are no longer looking so rosy. Your organisation has grown or is offering different services. You are finding it cumbersome to manage mailing lists or lead generation, never mind current GDPR and accessibility guidelines.
Consider a website redesign...
Before you take the plunge however, this useful article on Design Rush will give some insight into how to plan, what is included, results to aim for and what to look out for when considering website redesign services.
At on-IDLE we offer website redesign services that:
Reviews your competitor websites
Brand audit to ensure all communication outputs project your organisation with 'one voice' e.g. website, Powerpoint templates, email newsletters, social media
SEO audit
Accessibility audit
Mobile (or responsive RWD) display and functionality review on iOS and Android devices
Review of the navigation structure and content to match against current communication goals, services and products also taking insight on content-specific website visitors in Google Analytics
Review of the content management system and ensuring plugins and analytics are up to date
Review of CRM and/or email newsletter integrations
A few examples of our website redesign services in action

An on-IDLE customer since its inception in 2006, the Aldersgate Group's website has undergone 3 iterations. The 2022 version plays on the established brand identity reflected in reports, email newsletters, presentations and event graphics. The new website reflects the organisation's maturity, thus is more business-focused with sector-driven navigation catering for the diverse target audiences and calls to action (CTA) drives membership enquiries.
Visit the current Aldersgate Group website: www.aldersgategroup.org.uk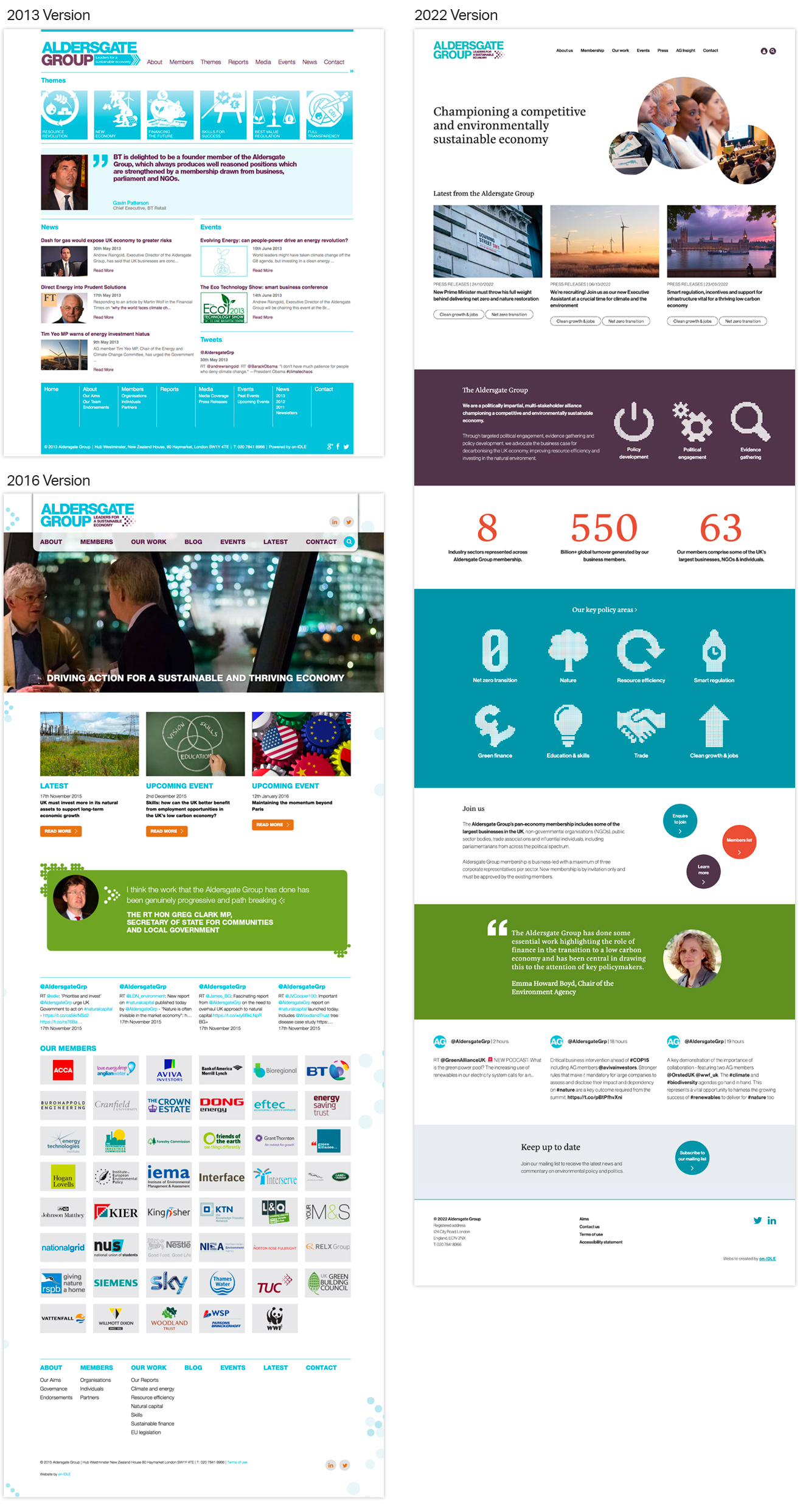 After over a decade in-use, Grade Design needed a website that showcased the breadth and variety of its portfolio of design excellence, a much simpler navigation structure and archive of work, SEO, mobile version and met current accessibility standards. The website redesign takes advantage of new technological capabilities in web browsers to mathematically calculate layout on the homepage, automated high quality image optimisation and smart cache loading. Of course, it is also simply beautiful.
Visit the Grade design website: www.gradedesign.com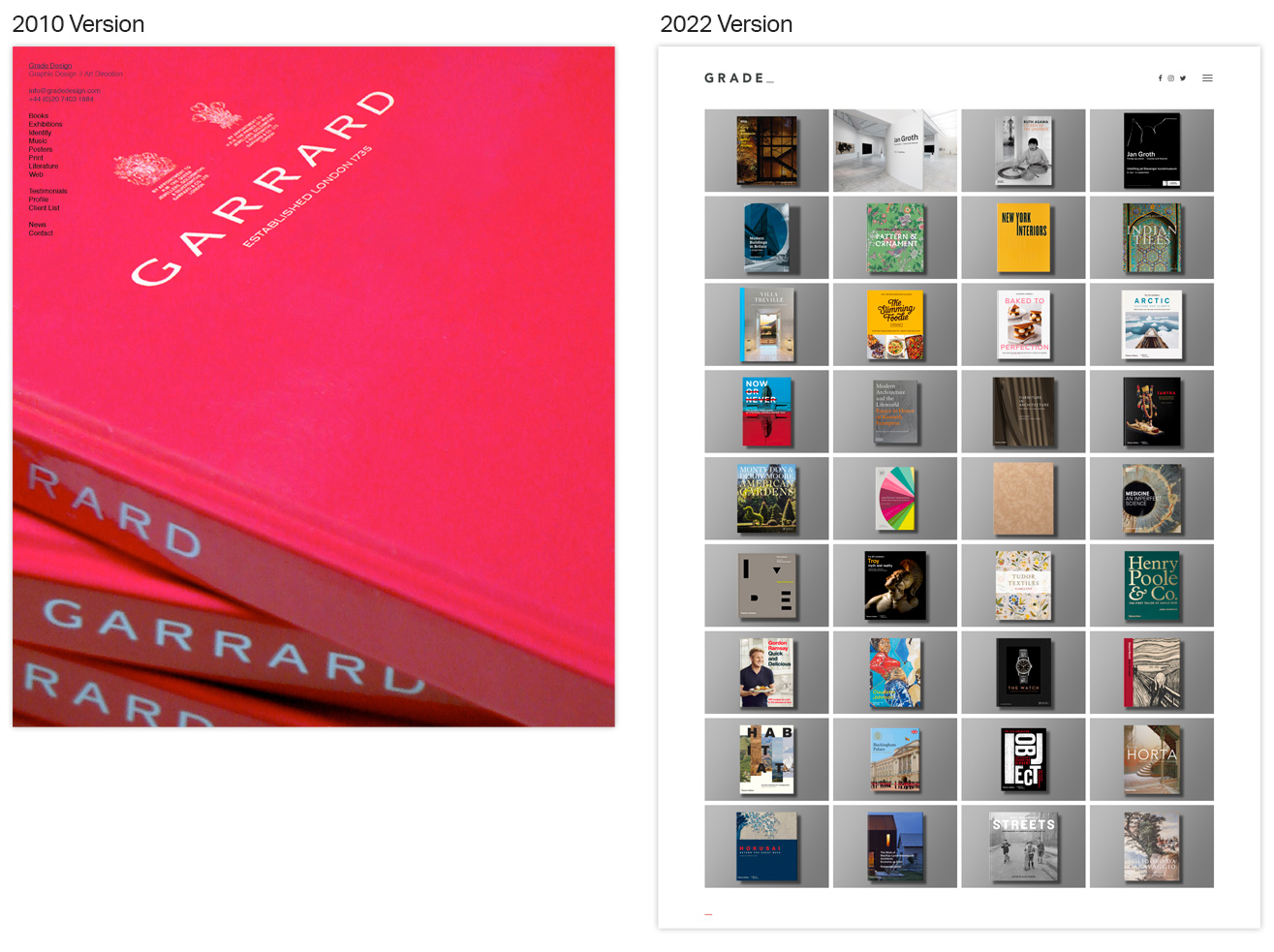 Since 2018 on-IDLE only created annual and statistical reports for IFFO, the Marine Ingredients Organisation. A new website was soon an urgency to keep up with the brand identity progression, the organisations' worldwide growth, its current and future communication needs with diverse stakeholders, a mobile version, multiple languages and meeting accessibility standards. Targeted user journeys were designed around key audiences and relevant content with the homepage redesigned to signpost upcoming events and important messaging. Website traffic and user engagement has increased by double-digit % points whilst time-consuming administrative email enquiries have been reduced as visitors are able to find relevant content.
Visit the IFFO website: www.iffo.com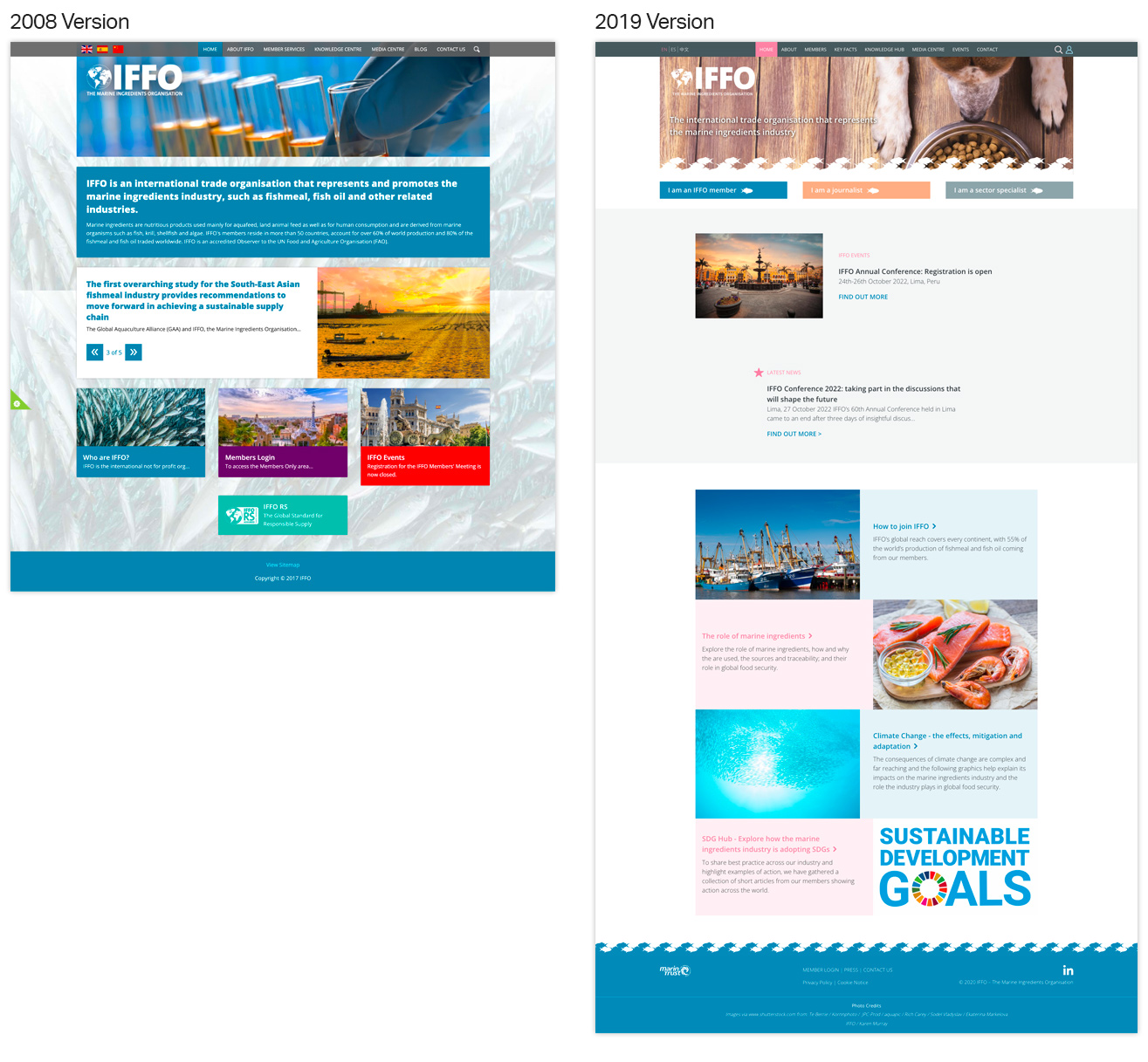 Four Corners Film and Photography are based in Bethnal Green, London. The corona virus epidemic forced the closure of the gallery as stoppage of exhibitions, photography & film training workshops and studio & equipment hire. An emergency grant from Arts Council England enabled on-IDLE to redesign and deploy a new website within 2 months enabling online event streaming for talks and lectures, facilitated online training workshops and communication with the close-knit community of filmmakers, photographers and students. An unexpected benefit was the opening up of Four Corners' work, events and training to a much broader audience than the local community.
Visit the Four Corners website: www.fourcornersfilm.co.uk